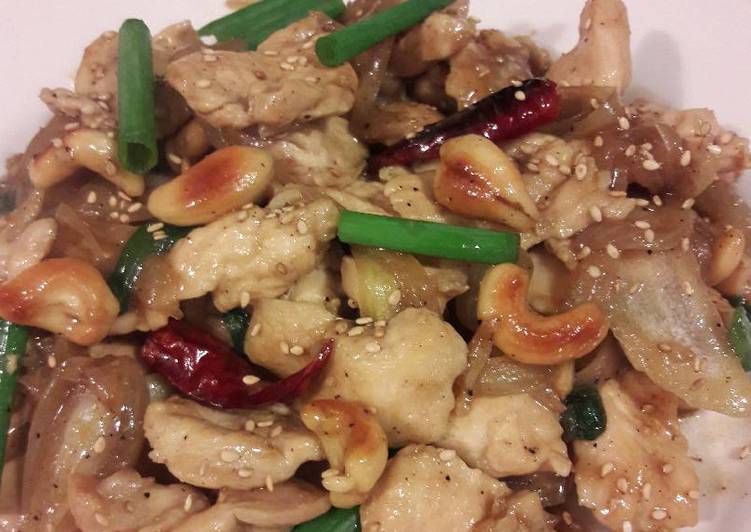 Thai Cashew Chicken. Thai Cashew Chicken – best Thai chicken stir-fry with cashew nuts and bell peppers. I love Thai cashew chicken and we have a. Reviews for: Photos of Thai Cashew Chicken.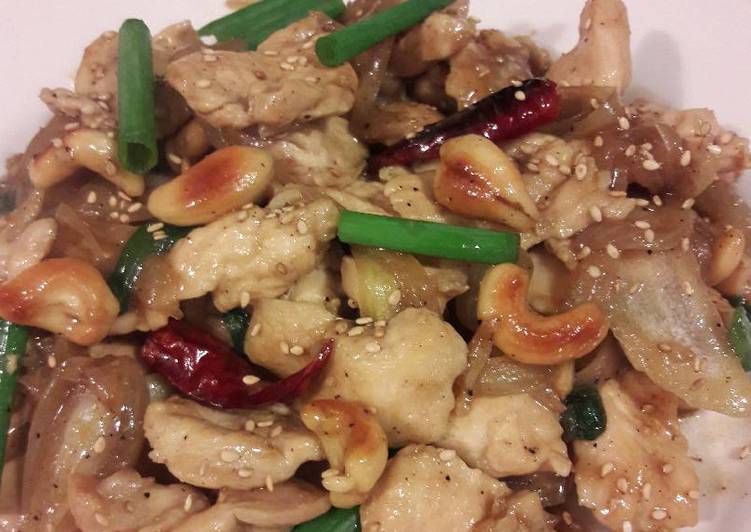 This Thai Cashew Chicken recipe is an easy stir-fry recipe that is so flavorful! This cashew chicken stir-fry combines chicken, yellow onion, green onion, dried red chilies, garlic. Cashew Chicken is one of the most popular dishes in any Thai restaurant, but it is super easy to make at home! Nowdays, you should can produce Thai Cashew Chicken using 13 ingredients and 6 steps. Here is how the way you boil that.
Ingredients of Thai Cashew Chicken
It's 1 pound of chicken breast.
You need of cashew nut.
You need 1 of onion.
You need 5 cloves of garlic.
Prepare of green onion.
It's 1 tbsp of sugar.
It's 2 tbsp of Thai seasoning sauce.
Prepare 3 tbsp of oyster sauce.
Prepare 2 tbsp of vegetable oil.
You need 1 tbsp of sesame oil.
Prepare 5 of dried chili pepper.
It's 1 tsp of black pepper powder.
Prepare 2 tbsp of water.
Cashew Chicken is a mainstay Thai dish that comes together quickly and easily. This recipe packs a satisfying crunch and a savory flavor. Shake off the excess flour and carefully add half the chicken to the hot oil. Today I was being a proper Thai eating this Thai cashew chicken stir-fry (or gai pad med mamuang in Thai) with rice for breakfast!
Thai Cashew Chicken instructions
Ingredients.
Add 2 tbsp vegetable oil in pan over lower medium heat, Then add cachew cook until turn to yellow. Take it out of the pan and save to add later..
Add chili pepper and cook for about 2 mins. Take it out of the pan..
Add mash garlic, and chicken medium heat until cook..
Add onions, green onion and cooked dried chili peppers. Until onion cook..
Add oyster sauce, Thai seasoning sauce, sugar, pepper powder, cashew, sesame oil and 2tbsp of water. Cook for an additional 1 min. Done!!.
Thai Chili Paste Cashew Nut ChickenHealthy Thai Recipes. Thai Cashew Chicken is my most favorite thai dish. I like the dry version with lot of chilies, caramelized onions and crispy cashews. Delicious vegan and easily gluten-free salad with Thai flavors and a perfect crunch. Chicken, thinly sliced, tapioca flour, rice wine (various brands available in stores or try our mirin), golden mountain sauce, vegetable oil, whole dried chile, white or yellow onion, diced (large dices work best), red bell pepper, diced same as onion, water chestnuts.