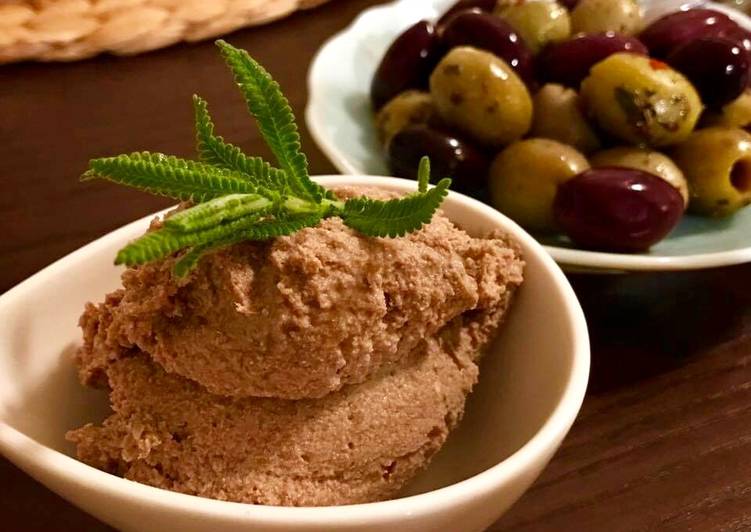 Chicken Liver Pâté. Jacques Pépin's chicken liver pâté recipe is surprisingly simple. Butter and Cognac lend the spread a rich, mellow flavor and a silky-smooth texture. Melt butter in a medium saucepan over medium heat.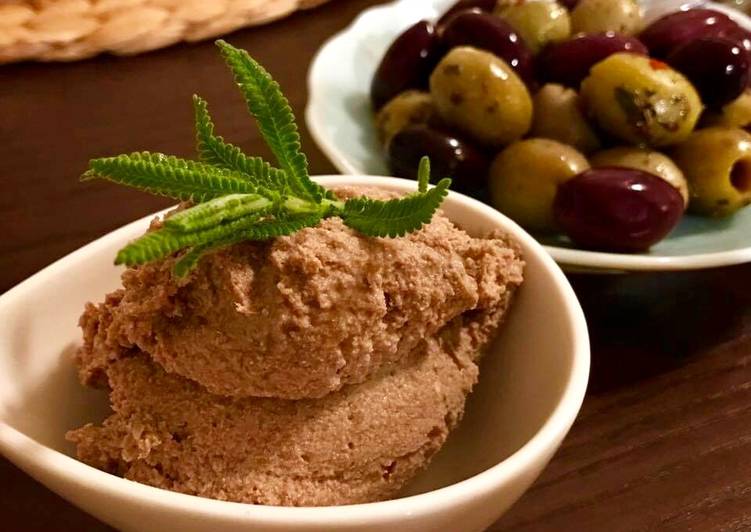 And unlike so many of the pâtés we make that require a weighted terrine in a water bath, this one is easy to make and takes hardly any time. You could serve this chicken pâté as an appetizer at a dinner party, or simply as a light (really!) supper or a sandwich spread It takes less than a half-hour to prepare, and it will firm up in the refrigerator in a few hours Simply pack the mixture into a bowl or glass jar, cover and refrigerate. Transfer livers to processor and pulse, scraping down sides as needed, until mixture is mostly smooth. Nowdays, you should can produce Chicken Liver Pâté using 7 ingredients and 9 steps. Here is how the way you make it.
Ingredients of Chicken Liver Pâté
You need 12 tablespoons (1.5 sticks) of unsalted butter, cut into cubes.
You need 2 of large shallots, peeled and finely chopped (3/4 to 1 cup).
Prepare 1 pound of fresh chicken livers, trimmed of fat and connective tissue.
You need 2 teaspoons of dried thyme or 1 Tablespoon of fresh thyme that's been chopped (lavender and parsley are also great additions – or even dried Herbes de Provence).
You need 1/3 cup of dry vermouth (you can also use red or white wine, Port, or Madeira, depending on which flavor you prefer).
Prepare 1 teaspoon of kosher salt to start.
You need 1/2 teaspoon of black pepper.
Season to taste with salt and pepper and let cool. Transfer pate to a small bowl and serve at room temperature with toasts or crackers. Return onion and apple to food processor. This is the perfect Christmas day starter using chicken livers, a wonderful low.
Chicken Liver Pâté step by step
Put a large, heavy sauté pan over medium heat, and melt 4 tablespoons of the butter until it begins to foam. Add the shallots, and sweat them for 4 to 5 minutes….
Just until they're all translucent. You don't want them to brown. Then add thyme, stir it in, and let it bloom in the hot butter for a minute or so..
Add vermouth, turn heat to high, and let it reduce by about half..
Then add chicken livers and gently toss them in the sauce..
Add salt and pepper, then let livers cook, occasionally gently stirring and folding to make sure all sides get cooked, just until the livers are lightly browned on the outside, but still tender and pink on the inside..
Let livers cool for 15 minutes or so before putting them in a food processor or blender (along with all of the sauce) and puree until smooth..
Add remainder of the butter (8 Tablespoons) and blend again until completely smooth. Adjust seasoning if needed and blend a few more seconds..
Transfer the pâté into a lidded container, give the bottom a few gentle taps on the counter to pack it, then cover entire surface with plastic wrap or wax paper, put lid on container, and refrigerate until firm. (At least two hours.) The pâté should keep at least 5 to 7 days well refrigerated..
Serve with baguette, toast, or crackers, and enjoy! :).
Stir in bourbon and remove from heat. The chicken liver pate came out the best I've ever made, in many years of cooking! Making it again today, for the second time, and hoping it will be equally as good, great recipe! Blend chicken livers with all other ingredients EXCEPT PARSLEY with hand mixer. Chill until firm; shape into a log and roll in parsley if desired.