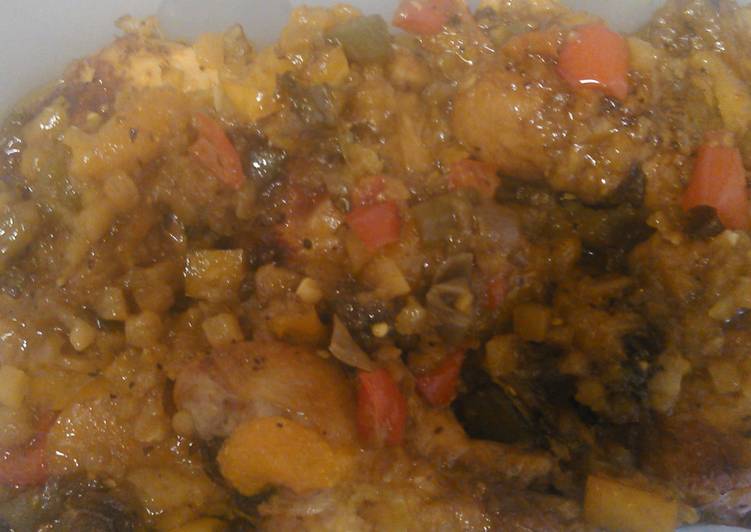 Tasty Island Chicken with fried cabbage, cornbread and rice. Pork neck bones pinto beans rice fried cabbage with cornbread and salad. Cooking while children come home from school. Drizzle soy sauce over rice, add chicken and stir to combine well.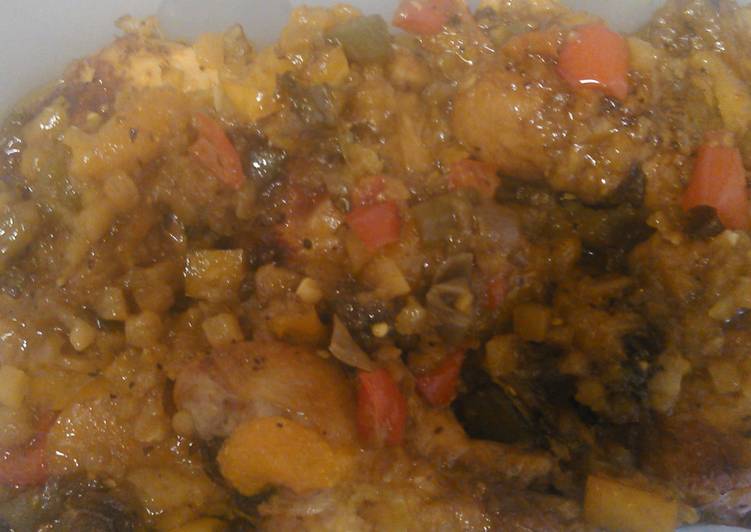 Cover with a lid and cook until eggs are at your desired doneness. Slide the egg and chicken over cooked rice, garnish with chopped scallions and shredded nori. So much flavor so much taste. Nowdays, you should can prepare Tasty Island Chicken with fried cabbage, cornbread and rice using 20 ingredients and 1 steps. Here is how the way you achieve it.
Ingredients of Tasty Island Chicken with fried cabbage, cornbread and rice
You need 1 packages of chicken legs and thighs.
You need 1 of Cabbage.
It's 8 clove of garlic.
It's 1 can of crushed pineapple.
Prepare 1 can of mandarins.
It's 1 of red bell pepper.
Prepare 1 of yellow bell pepper.
Prepare 1 of green bell pepper.
You need 1 of red onion.
Prepare of garlic powder.
Prepare of lemon pepper.
You need of curry powder.
You need of salt.
It's of black pepper.
It's 1 of mandarin juice.
It's pinch of chopped cilantro.
Prepare 6 slice of bacon.
It's of cayenne pepper.
It's 2 tbsp of balsamic vinegar.
You need 2 tbsp of soy sauce.
Making this again isn't the question the question is when can I make this again. I used red cabbage golden beets carrots and corn fresh from the cob. Chicken egg-fried rice is a quick, easy and cheap way to use up leftovers. Perfect for late-night meals or dinner in a hurry.
Tasty Island Chicken with fried cabbage, cornbread and rice step by step
Preheat oven to 375°F. Wash and trim chicken of excess fat. Chop up garlic cloves. Cut bell peppers and onion. Place chicken into a baking pan. I place a few pieces of chopped garlic under the skin of chicken. Season chicken with salt, lemon pepper, curry powder, garlic powder, cayenne pepper. Rub crushed pineapple onto chicken. Add mandarins, reserve juice in can. Add 2 tablespoons soy sauce, and 2 tablespoons of balsamic vinegar. Pour syrup mixture on top of chicken. Place in oven for 40 minutes. Cut bacon into small pieces and place in skillet to fry. Add 3 cloves garlic chopped. Cut cabbage into thin strips add to bacon and garlic. I added a few strips of red bell pepper. Season to taste. Cook for 10 minutes or unto desired tenderness. I also prepared white rice. And 2 boxes of huffy..
Add the egg and quickly stir-fry until just under-cooked. Remove from the wok and set aside. A tasty soup from a cookbook called "Lean and Lovin' It". Cut down on the white pepper and cayenne for a less spicy soup. Add cabbage and lemon slices to the broth/rice.